"I have really great seats" she said. Yeah, um that was like the understatement of the century. Because they WERE really great – if by "really great" you mean "separated from the Avs bench by glass." Holy shit. So if you watched the game, well, you may have seen us in the shots of the bench. We'd be the two girls drinking vodka tonics and whispering about BOYS. What? No, I meant HOCKEY. Whispering about HOCKEY. Hockey Boys.
There they were – right in front of me. Dan Hinote. Joe Sakic. A bunch of guys who I had no clue who they were. However, by the end of the game, I knew who they were, even though I couldn't pronounce their names. Skrastins – who Kendra affectionately named, um, something inappropriate that sounds sorta similar. Vaananen -- "It sounds like that Muppets song 'mahnahmahnah.'" And of course, Boughner. Heh. There were ridiculous puns that aren't going to be mentioned here. There were A LOT of stealth camera phone pictures. There were the requisite jokes about hockey terms. Penalties for hooking. Heh. Penalties for holding the stick. Double Heh. The requisite jokes and observations about the people who act like crazy people when the big screen camera is on them.
Anyway. I've actually met Dan Hinote and I find him to be gorgeous. I'm VERY partial to men with dark hair and light eyes, and lucky for him, well, he has both. So he's my new Avalanche boyfriend – only because Peter Forsberg is no longer with us. (Sigh. You always remember your first hockey love.) Although I might be persuaded to leave Hinote for Ossi Vaananen. Because at first, Kendra and I just made fun of his name – but since he sat in front of us for most of the game, well, we saw a lot of his pretty pretty face when he'd come off the ice. I will say that I showed remarkable restraint when I refrained from pressing my lips up against the glass. I thought about it, I wanted to, but I thought it might not look altogether "cool." I did notice, however, that even when he's all sweaty and his hair is wet and curling out the bottom of his helmet, Dan Hinote has the most gorgeous skin. And you know that under all that padding, well, all I can say is what I said all night: "ohhhhhh to be a pair of hockey paaaaaants…"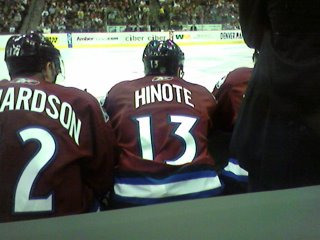 Seriously. Look at him. SO PRETTY.
The Avs won the game. I know it sounds like we didn't pay much attention to it, but honestly? It was hard to see around all of the players when they would stand up. But I couldn't very well yell "Down in front!!!" Plus, they totally blew out the St. Louis Blues – 6-1. Nice work boys. Nice work.
*Just an FYI -- all the pictures are ones I took myself, except for the last one of Hinote. That was courtesy of our local CBS affiliate*